Recently, as the last truss slowly slipped into place, the country's largest span  coal shed  project – Hebei Datang International Wangtan Power Generation Co., Ltd. coal yard closed EPC  steel structure  project main truss has completed aerial folding.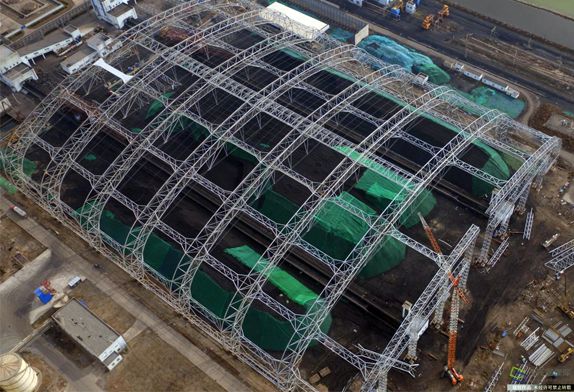 The engineering structural system is composed of round steel pipe and steel cable. The structure of the space frame maintenance structure adopts membrane structure, and the span of the truss reaches 202.2 meters. It is the largest span of coal shed in China, with a total steel structure of 3,500 tons. 
Zhang Dexin, project manager of Beijing Construction Engineering Machinery Group Co., Ltd., who is in charge of the construction, told the reporter that since there is no column in the middle of the coal yard, the steel structure truss needs to cover the entire coal yard, so the truss span is relatively large. The truss span is large, which causes great difficulty in construction assembling and hoisting. For this reason, the project department has formulated a construction plan of "overall lifting + slipping". 
Zhang Dexin said: "Under the normal production and power generation of the power plant, we will first assemble and hoist the truss on the ground, and the whole block will be lifted into place, and then the block will be slipped. This solution reduces the amount of work at height of 70%-80%, and also reduces the impact of wind on hoisting, and at the same time ensures construction safety. "